Album Review: Jared James Nichols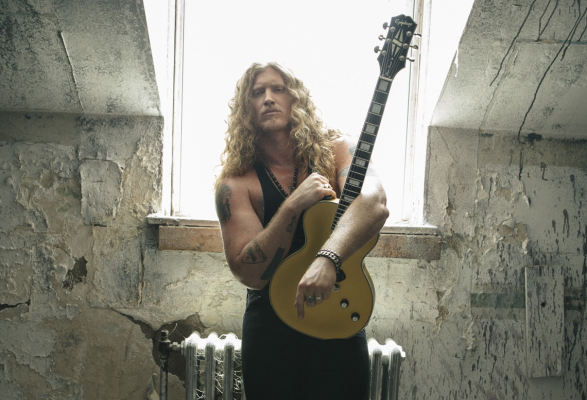 American singer/songwriter Jared James Nichols has a new self-titled album out on 13 January. This will be Nichols' third album and highlights his musical tastes from blues through grunge to good old rock and roll. With Nichols being a Gibson Guitars Brand Ambassador you would expect the album to hit the mark and it doesn't disappoint.
'Hard Wired', an anthemic slab of frenzied, distorted guitar rock was released earlier in 2022 and is included on the new release which opens with 'My Delusion', a cracking blues number. But it is the single 'Down The Drain' which sets the tone, a slice of melodic blues rock with gritty vocals and plenty of slick soloing that makes you want to hit the repeat button immediately the track has faded out.
Nichols has said that the album was made to serve as a menu for upcoming live shows and tracks such as 'Good Time Girl', 'Shadow Dancer', and 'Out of Time' suggest exciting live shows lie ahead and make it obvious why luminaries such as Joe Bonamassa, Billy Gibbons Slash and Zakk Wylde have been happy to share a stage with him.
Commenting on the album Nichols says, "There's an element of excitement and danger. It's my version of rock 'n' roll with a little more humanity. The album is a day in the life with the ups and downs, but it musically rings true to who I am as an artist. I'm not trying to be anybody but myself and play the music I love for today. I'm giving you loud ass guitars and no fucks given rock 'n' roll, and I'm loving it."
It's been a couple of years since any UK dates by Nichols and while nothing is on the horizon at present, stay tuned to our news page in case some materialise as you definitely would not want to miss him.
'Jared James Nichols' is released on 13 January 2023 on Black Hill Records.
Check out the video for 'Down The Drain' HERE:
The album can be pre-ordered from here
Review by David Dunn
Photo Credit: David McClister
The post Album Review: Jared James Nichols appeared first on Latest Music News + Gig Tickets From Get To The Front – Music News Magazine.
https://www.gettothefront.co.uk/album-review-jared-james-nichols/